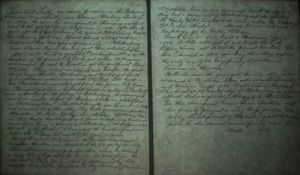 This piece was handwritten in cursive by
Edward Barnhart Fritz
or his wife
Marjorie
in 1975. It has "Written in 1975" at the end, and the way "Benedict" and "Mathilda" are written match a letter from Edward and Marjorie to Bruno Fritz's father, provided to Christopher Fritz by Bruno as a scanned document named "Brief Edward u. Marjorie Fritz.pdf".
Source
Microfilm 981927 Item 5
Title card
Microfilmed for the Genealogical Society of the Church of Jesus Christ of Latter-Day Saints.
Ottumwa Public Library
Ottumwa, Iowa
Benedict Fritz & Early Pioneer 1829 —
Date: 23 JUNE 1975
Reduction: 15 Foot
Candles: 64
By Ralph Wofford
Contents
Benedict Fritz, an early pioneer in the Blakesburg business community was born in Bludenz, Austria in 1829. He was an emigrant to America and first went to the gold fields of California in 1850. After about four years of gold mining, he came to Blakesburg, because his mining partners, Gephart Schoech and Karl Walter had come here two years previously. Blakesburg was a new town, having just been established in 1845, so he built a general merchandise store on the location of the present City Park, and when it became successful, he sent to Austria for his girlfriend, Anna Miller. They were married and lived in the first brick house built in Blakesburg and located just south of his store in what is now our City Park. The brick in the Bandstand was salvaged from this former Fritz home.
Benedict and Anna had eight children and since Benedict was a booster for the future of Blakesburg, he encouraged and financially helped his children to become established in business here. The eldest daughter was Louise, born in 1858, and married [Moses Henry Abernathy|M. H. Abernathy]]. They had a general merchandise store where the Huber Garage now stands. William, born in 1860, had a lumberyard and farm machinery business as well as being a farmer and stockman. His office was the site of the present Library and the lumberyard was where the parking lot north of the office is now. Henry, born in 1862 was in the general merchandise business. His store was located on the N W part of our City Park and it was a very popular store, since he carried a large line of top end gift items in the 2nd floor. He also had a large farm which is still large by his daughter Ona and her husband Dr Roy Pearson of Muscatine.
Mathilda, born in 1864, married Frank Hardy and they had a farm east of Blakesburg and also operated the Hardy Hotel located on the corner where the Blakesburg Oil Co. now stands. George, born in 1866 was a Bookkeeper for his brother William.
Frank, born in 1868, built a Hardware Store in 1894. He later enlarged it and built the Fritz Opera House all still at the present location. His son Edward is still operating the store and is the only one of the large family still active in business in this area.
Gertrude was the youngest, born in 1871, was married to William Shea who was Roadmaster and Division Supt. of the Milwaukee Railroad. They lived at the north edge of Blakesburg on a farm which had originally belonged to Benedict.
So this emigrant man from Austria and his family played a very large part in the early development of Blakesburg and the areas since he also owned several farms near here.
Written in 1975.
Images